At Experian, one of our priorities is consumer credit and finance education. This post may contain links and references to one or more of our partners, but we provide an objective view to help you make the best decisions. For more information, see our Editorial Policy.
The Discover it® Student Cash Back is one of two Discover student cards that offers cash back rewards and doesn't have an annual fee. Either could be a good option, but this card may be best for students who don't own a vehicle or regularly eat at restaurants.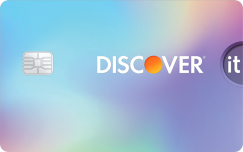 Discover it® Student Cash Back
Apply
on Discover's website
Recommended FICO® Score*
Fair, New to Credit
Discover it® Student Cash Back
12.99% - 21.99% Variable APR
0% on Purchases and 10.99% on Balance Transfers for 6 months
5%
cash back on Rotating Categories
Earn 5% cash back on everyday purchases at different places each quarter like Amazon.com, grocery stores, restaurants, gas stations and when you pay using PayPal, up to the quarterly maximum when you activate. Plus, earn unlimited 1% cash back on all other purchases – automatically.
1% cash back on All Other Purchases
Unlimited Cashback Match. Discover will automatically match all the cash back you've earned at the end of your first year.
Card Details
INTRO OFFER: Unlimited Cashback Match – only from Discover. Discover will automatically match all the cash back you've earned at the end of your first year! So you could turn $50 cash back into $100. Or turn $100 into $200. There's no minimum spending or maximum rewards. Just a dollar-for-dollar match.
Earn 5% cash back on everyday purchases at different places each quarter like Amazon.com, grocery stores, restaurants, gas stations and when you pay using PayPal, up to the quarterly maximum when you activate. Plus, earn unlimited 1% cash back on all other purchases – automatically.
Good Grades Rewards: $20 statement credit each school year your GPA is 3.0 or higher for up to the next 5 years.
Earn rewards while building your credit history that can help you after graduation. And, get your free Credit Scorecard that includes your FICO? Credit Score and important details that help make up your score.
No annual fee. No late fee on first late payment. No APR change for paying late.
Refer-a-Friend: Once you become a Discover it? Student cardmember, you can earn a $50 statement credit each time you refer a friend and they're approved. Over half a million students got Discover Cards from their friends' recommendations.
Freeze It® on/off switch for your account that prevents new purchases, cash advances & balance transfers in seconds.
Get an alert if we find your Social Security number on any of thousands of Dark Web sites.* Activate for free.
Discover is accepted nationwide by 99% of the places that take credit cards.
0% intro APR on purchases for 6 months, then the standard variable purchase APR of 12.99% - 21.99% applies.
| Pros | Cons |
| --- | --- |
| No annual fee and few other fees | Discover isn't as widely accepted as Visa or Mastercard |
| Bonus cash back on rotating categories | Bonus earnings are capped every quarter |
| Extra rewards-earning possibilities | A potentially high interest rate |
| | Discover only has one branch office |
Customer service contact info for Discover
Discover Financial Services
800-347-2683P.O. Box 30943
Salt Lake City, UT 84130-0943
Experian Review
The Discover it® Student Cash Back card is a great option for part-time and full-time students attending college or other postsecondary schooling. The card can help you build credit by reporting your account to all three major consumer credit bureaus: Experian, TransUnion and Equifax. You can also earn cash back rewards on your purchases and won't have to worry about many fees.
Earn Cash Back Rewards
The Discover it® Student Cash Back card is a rotating rewards card, meaning you can earn additional cash rewards on certain purchase categories that change every financial quarter. The card has a base 1% cash back on all eligible purchases, additional bonus rewards and a 5% cash back rewards rate on rotating bonus categories.
Discover chooses the spending categories and changes them every three months. You can earn the 5% cash back rate on up to $1,500 in combined bonus category purchases each quarter when you activate. For 2020, bonus categories are:
January to March: Grocery stores, Walgreens and CVS
April to June: Gas stations, Uber, Lyft and wholesale clubes
July to September: Restaurants and PayPal
October to December: Amazon.com, Walmart.com and Target.com
The rotating rewards can be a boon for students if their standard purchases tend to fall within the selected categories as 5% cash back is a top-tier rate. However, Discover may change the bonus categories from one year to the next. Also, once you meet the $1,500 limit during a quarter, you earn 1% cash back on additional purchases in that category.
In addition to its bonus category rewards, Discover also offers other opportunities to earn bonus cash back:
Cash back match after the first year: For new cardmembers, once you've had the card for a year, Discover will match all the cash back rewards you earned up to that point. You'll have to keep your account open to earn the bonus, which can be a good idea anyway since there's no annual fee and the card can help you build credit.
Good grade rewards: You can get a $20 statement credit once every school year per account for up to five years if you maintain a GPA of 3.0 or higher.
Limited-time offers: Occasionally, Discover may offer other rewards or redemption bonuses, such as higher cash back rates on certain purchases or discounts when you use your points to shop.
When it's time to redeem your cash back rewards, you can choose to do so with an electronic deposit into your bank account, credit to your account, charitable donation or by paying with Discover rewards at an eligible merchant. You can redeem as little as a penny of your rewards at a time, which is worth noting because some cash back cards have a minimum redemption amount.
Alternatively, if you have at least $20 in rewards, you can redeem them for a gift card from an eligible partner and you'll get at least an additional $5 added to the card.
Few Fees and Helpful Policies
Like many student credit cards, the Discover it® Student Cash Back card doesn't have an annual fee—helpful for cash-strapped college students. Discover also goes a few steps further by offering:
A waiver for your first late payment fee: The waiver could be helpful for people who are just starting to learn how to use a credit card and may accidentally miss a payment.
No foreign transaction fee: Helpful for students who are planning to study or travel abroad.
No penalty annual percentage rate (APR): Penalty APRs are a higher interest rate that some card issuers apply to your account if you miss your payments. But you should still aim to always make at least your minimum payment on time as a late payment can harm your credit.
No overlimit fee: A limited benefit as you generally can't go over your credit limit anyway.
Additional benefits include free overnight delivery for a replacement card to any U.S. street address, and a mobile app that lets you quickly lock your card while you wait for the replacement.
Qualifying for a Discover Student Card
While this credit card caters to college students, who card issuers might not expect to have long credit histories or high incomes, there are still minimum requirements that need to be met. For a Discover card, you'll need to:
Be 18 or older.
Have a U.S. address and a Social Security number.
Complete the application.
Show proof of education, such as a copy of your student ID or a class schedule with your name, the school's name and the school term.
Have enough income or assets to afford your credit card payments.
The income requirement can be tricky for some students, as student loans generally don't count as income.
Even if you don't have a full-time job or work while you're at school, you may qualify based on part-time, seasonal or work-study income. If a parent regularly sends you money for living expenses, you can also count that as income on your application. Students who are 21 or older can also count a household member's income if they can reasonably expect to be able to use that money to pay a credit card bill.
Managing Your Card
Your Discover it® Student Cash Back account and monthly activity will be reported to the three major consumer credit bureaus and can help you establish and build your credit.
To do so effectively, you'll need to make at least your minimum payment on time every month and keep your card balance low. Responsible use can do a lot to help you build credit, but carrying a nearly maxed out balance and missing payments could wind up hurting your credit instead.
Carrying a balance from one month to the next can also lead to interest charges, so it's best to pay your bill in full when you can. Keeping track of your purchases and only buying what you can afford to pay off can help.
Discover also has a suite of features that can make managing your account, credit and personal information easier:
A recurring charges dashboard that helps you review regular expenses on your card, such as bills or monthly subscriptions.
Credit card, credit report, FICO® Score☉ monitoring and notifications if Discover notices suspicious activity on your credit card or credit report.
The ability to lock and unlock your credit card from your online account or via the app.
Up to $120 in cash back every 24 hours at select retailers without having to pay a cash advance fee. You will, however, be charged the standard purchase APR on cash back.
Dark web monitoring services, which keep a lookout for your Social Security number.
Customer service that's based in the U.S.
You can also manage your account online and by using the Discover mobile app for iOS or Android. Many of the above features can be accessed in the app, and you can set up text or push notifications or make credit card payments directly from the app.
Additional Info
| | |
| --- | --- |
| Purchase APR: 0% intro APR for 6 months after account opening, then 12.99% - 21.99% Variable APR | Grace period: At least 25 days after the close of each billing period (at least 23 days for billing cycles that begin in February) |
| Transfer APR: 10.99% intro APR for 6 months from date of first transfer for transfers posted by issuer deadline (see Rates & Fees on issuer page for details), then 12.99% - 21.99% Variable APR | Annual fee: $0 |
| Cash advance APR: 24.99% Variable | Balance transfer fee: 3% intro balance transfer fee, up to 5% fee onfuture balance transfers (see terms)* |
| Minimum interest charge: $.50 | Cash advance fee: 5% ($10 minimum) |
| | Foreign transaction fee: None |
| | Late payment fee: None for the first late payment, then up to $40 |
| | Returned payment fee: Up to $40 |
Authorized-User Policy
You can add an authorized user who is at least 15 years old to your card for free. The authorized user can make purchases and request balance transfers or cash advances.
You'll receive the rewards from their purchases, but you'll also be responsible for repaying the entire balance from all their transactions. If you don't pay off the authorized user's transactions, they'll be carried over to the next month and will start to accrue interest—which you'll also be responsible for.
Is This Card Right for You?
If you're an eligible part-time or full-time student, the Discover it® Student Cash Back can be a good card for building credit and earning rewards without having to worry about fees. But the rotating rewards can be hit and miss, as your purchases might not align with the categories Discover chooses. Compare the card to other student credit cards that offer rewards without an annual fee to see which will work best for you.