At Experian, one of our priorities is consumer credit and finance education. This post may contain links and references to one or more of our partners, but we provide an objective view to help you make the best decisions. For more information, see our Editorial Policy.
The Discover it® Cash Back card offers some hefty rewards, particularly for new cardholders, making it one of the most valuable everyday cash back cards available. And with no annual fee, you never have to justify that you're getting enough value to make up for the card's cost—assuming you don't carry a balance.
The card's complicated rewards structure may not be the best fit for cardholders who prioritize simplicity. Also, non-bonus spending won't net you much. Here's what to consider before you apply for the credit card.
Discover it® Cash Back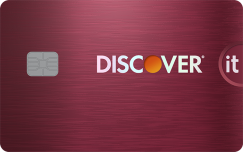 Apply
on Discover's website
Recommended FICO® Score☉
Good - Exceptional
11.99% - 22.99% Variable
Intro APR: 0% on Purchases and Balance Transfers for 14 months
5%
cash back on Rotating Categories
1% cash back on All Other Purchases
Intro Bonus: Dollar-for-dollar match of all cash back earned the first year
Card Details
INTRO OFFER: Unlimited Cashback Match – only from Discover. Discover will automatically match all the cash back you've earned at the end of your first year! There's no minimum spending or maximum rewards. Just a dollar-for-dollar match.
Earn 5% cash back on everyday purchases at different places each quarter like Amazon.com, grocery stores, restaurants, gas stations and when you pay using PayPal, up to the quarterly maximum when you activate.
Plus, earn unlimited 1% cash back on all other purchases - automatically.
Redeem cash back any amount, any time. Rewards never expire.
Use your rewards at Amazon.com checkout.
Get an alert if we find your Social Security number on any of thousands of Dark Web sites.* Activate for free.
No annual fee.
Customer service contact info for Discover
1 (800) 347-2683
Discover Financial Services
P.O. Box 30943
Salt Lake City, UT 84130-0943
| Pros | Cons |
| --- | --- |
| Impressive rewards rate on everyday spending categories that rotate quarterly | Has a low base rewards rate |
| Discover matches all the cash back you earn during the first year | Bonus rewards are capped |
| Long intro 0% APR promotion on both purchases and balance transfers | May not be a good choice for international travel |
Experian Review
If you have high expectations for a cash back card, the Discover it® Cash Back is worth checking out. The card offers an impressive 5% cash back on up to $1,500 in purchases in categories that rotate quarterly. It also offers a generous new cardholder bonus and an introductory 0% annual percentage rate (APR) on purchases and balance transfers for 14 months—all with no annual fee.
But if you're planning to use just one credit card, there are some things to keep in mind. For starters, it offers a low 1% rewards rate on most purchases. It also has a complicated rewards structure, requiring you to activate the featured category each quarter to get the bonus cash back and capping how much you can earn in quarterly bonus rewards.
Here's everything you need to know about the Discover it® Cash Back before you decide whether to apply.
Getting the Most From Discover it® 5% Cash Back
Discover it® pays 5% cash back on eligible purchases up to $1,500 per quarter, then 1% after that. You'll also earn 1% cash back on all other non-bonus spending categories, which will likely make up most of your purchases with the card.
To take advantage of the high 5% cash back categories, you need to activate it each quarter. Fortunately, Discover makes it easy by sending an email reminder. Just click the link, and you're done—no login required.
The card's bonus categories change every quarter, and they don't necessarily stay the same every year. In general, though, categories include grocery stores, gas, restaurants and select online retailers. Check Discover's cashback bonus calendar for current categories.
If you maxed out the card's bonus rewards each quarter, you'd earn $300 in bonus cash back each year, plus 1% back on every other purchase.
You can activate anytime within a quarter to start earning bonus rewards, but if you activate after the start of the quarter, you'll only earn 5% on purchases from that date. In contrast, the Chase Freedom® allows you to activate at any point up until two weeks before the end of the quarter, and you'll earn 5% back on all of your eligible purchases going back to the beginning of the period.
You can redeem cash back in any amount and at any time, and rewards never expire. Other redemption options include direct deposits into your bank account, statement credits, donations to select charities, gift cards, e-certificates and shopping on Amazon.com.
If you choose gift cards or e-certificates, you'll get at least $5 in bonus value every time you redeem. For example, you only need $20 in rewards to purchase a $25 gift card or e-certificate.
To redeem your cash back for Amazon.com purchases, simply add your card as a payment method, and you'll see the option when you check out. Also, note that $1 in cash back equals $1 at Amazon.com. With many cards that allow you to redeem rewards with the retailer, it's at a discounted rate.
Cash Back Matched Your First Year
If getting 5% cash back isn't impressive enough, how does 10% sound? During the first year with the Discover it® Cash Back card, the bank will match all the cash back you earn. That means you'll get 10% back on quarterly bonus categories and 2% back on everything else. You'll be hard-pressed to find a card with those rewards rates over that length of time.
This bonus is automatic and there's no limit to how much you can get matched.
For big planned purchases, such as a home remodeling project, the new cardholder incentive can make this card quite lucrative. Let's say, for example, that you earn $500 cash back in total rewards your first year. Discover will give you another $500 in cash back at the end of the period, which is much more than the sign-up bonuses that similar cash back credit cards offer.
The only downside is that it takes a year to get the bonus. With most rewards credit cards, the qualification period for bonus offers is just a few months.
Introductory 0% APR Is Another Way to Save
Another way to maximize your incentives as a new cardholder is to take advantage of the healthy 14-month 0% introductory APR period for purchases and balance transfers. If you want to make a large purchase and pay it off over time, this is a valuable perk. After 14 months, however, the card's ongoing 11.99% - 22.99% Variable APR can be quite high depending on your creditworthiness, so be sure to pay off your purchase balance before the promotional period ends.
The card's balance transfer fee is 3% of the amount transferred during the introductory period and then up to 5% after that. Both of these fee amounts are common with balance transfer credit cards, but there are other cards available that don't charge a balance transfer fee on introductory transfers.
Keep in mind that it is often better to not make new purchases with a card you're using for balance transfers—but this can limit your potential with the card's first-year bonus. Mixing these two activities on one card can make it difficult to see where you stand on both your spending and debt payoff goals.
Also, because there are specific rules about how interest charges are calculated for balance transfers and purchases after the introductory 0% APR period, you could end up paying more interest than you planned.
Keep Your Account Safe with Online Features
In a digital age, card security is more important than ever, and Discover offers some valuable features that can help protect your card and your personal information.
One example is the card issuer's Freeze it tool, which allows you to lock your card through your online account or mobile app if it goes missing. Then you can unlock it once you find it.
If you can't find your card or it's been stolen, you can request a replacement, which Discover will ship overnight.
Beyond protecting your card, Discover goes to great lengths to safeguard your identity. The bank monitors your Experian credit report and thousands of websites on the dark web and will notify you when a new account is listed on your Experian credit report.
It'll also let you know if some of your personal information, such as your Social Security number, shows up on a shady website. This feature can make a big difference in stopping identity theft before it gets worse, or even before a thief uses your information in the first place.
To manage your account, you can use your online account or Discover's mobile app. The card issuer ranks No. 1 in overall satisfaction for U.S. credit card mobile apps and online management, according to J.D. Power.
Additional Info
| | |
| --- | --- |
| Purchase APR: 0% intro APR for 14 months, then 11.99% - 22.99% Variable, based on creditworthiness | Grace period: At least 25 days after the close of each billing period (at least 23 days for billing cycles that begin in February) |
| Transfer APR: 0% intro APR for 14 months, then 11.99% - 22.99% Variable, based on creditworthiness | Annual fee: $0 |
| Cash advance APR: 24.99% Variable | Balance transfer fee: Intro fee of 3% of the amount of each transfer that posts to your account by issuer deadline (see Rates & Fees on issuer page for details). After that, 5% of the amount of each transfer. |
| Minimum interest charge: $0.50 | Cash advance fee: $10 or 5% of the cash advance, whichever is greater |
| | Foreign transaction fee: $0 |
| | Late payment fee: None the first time, then up to $40 |
| | Returned payment fee: Up to $40 |
Authorized-User Policy
If you'd like to give a partner or trusted loved one card access, you can go online to add them as an authorized user on your Discover it® account and let them choose their own card design. There's no cost to add an authorized user, and every purchase they make will earn rewards.
Note, however, that you're responsible for any charges an authorized user makes using their card. On top of making purchases, they can also:
Report lost or stolen cards
Request additional cards
Obtain account information
Initiate billing disputes
Request copies of statements
Make payments
Inquire about fees
Request a balance transfer or cash advance
Remove themselves from the account
Is This Card Right for You?
The Discover it® Cash Back card offers an impressive set of introductory incentives and ongoing rewards. It may not be the best choice if you're looking for a simple rewards structure. Also, Discover doesn't have wide acceptance overseas, so you may need to bring a Visa or Mastercard as a backup when you travel.
It may even be worth having another rewards credit card with a high rewards rate on all your purchases to use when you're not earning 5% back with the Discover it® Cash Back.
As you consider whether the card is right for you, compare it with other cash back credit cards, focusing on the features that are most important to you. Then pick the one that works best for your needs.
All information about the Chase Freedom® has been collected by Experian and has not been reviewed or provided by the issuer of the card. Offer details may be outdated.