At Experian, one of our priorities is consumer credit and finance education. This post may contain links and references to one or more of our partners, but we provide an objective view to help you make the best decisions. For more information, see our Editorial Policy.
Credit One Bank offers several credit cards that may be good fits for people who don't have a great credit score. The Credit One Bank American Express® Credit Card is another one to consider, and it's the first Credit One Bank card that opens up access to Amex Offers and other benefits specific to American Express-branded cards.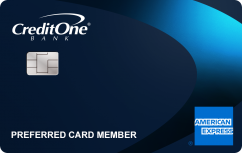 Credit One Bank American Express® Credit Card
Apply
on Credit One Bank's website
Terms Apply
Recommended FICO® Score*
Fair - Good
Credit One Bank American Express® Credit Card
1%
cash back on All Purchases
Earn unlimited 1% cash back rewards on all purchases, terms apply
Card Details
Earn unlimited 1% cash back rewards on all purchases, terms apply
$0 Fraud Liability ensures you won't be responsible for unauthorized charges
Retail Protection covers you if an eligible item is accidentally damaged or stolen, terms apply
Get deals on shopping, dining, travel, and entertainment through Amex Offers
Enjoy exclusive access to pre-sale tickets for some of the hottest nationwide concerts and events
Know you're covered when the unexpected happens while traveling with Travel Accident Insurance, terms apply
If you are a Covered Borrower under the Military Lending Act, you may get a different offer
| Pros | Cons |
| --- | --- |
| Earn cash back rewards on all purchases | Relatively low rewards rate |
| Easy-to-use rewards program | Has an annual fee |
| Extra cardholder benefits | Additional fees may also apply |
Credit One Bank Customer Service
877-825-3242

P.O. Box 98873
Las Vegas, NV 89193-8873
Experian Review
The Credit One Bank American Express® Credit Card offers 1% cash back on purchases, travel and purchase protections, and access to Amex Offers. These features can all help you save money and shop with confidence, and aren't always found on credit cards available to those with lower credit scores.
Solid Option for Those Building Credit
If you're building or rebuilding your credit, your credit card options will be limited. Secured cards are a popular choice, but they require you to send the card issuer a security deposit when opening an account. Some secured cards are also loaded with fees, which make them even less appealing when money is tight.
The Credit One Bank American Express® Credit Card is an unsecured card for people with fair to good credit. While there is a $39 annual fee, you won't need to hand over hundreds of dollars as a security deposit to get started. And the card has a $300 minimum credit line to start.
If you never charge up a high balance and always pay your monthly bill on time, you can use the card to help improve your credit scores while earning rewards.

Earn 1% Cash Back Rewards on All Purchases
The Credit One Bank American Express® Credit Card's rewards program is simple to understand and use. You'll earn 1% cash back on your spending, and your cash back rewards will be automatically redeemed on your next credit card bill to reduce your balance. Rewards redemption doesn't count as a payment, though, so be sure to make at least a minimum payment if one is due. Terms apply.
You won't earn rewards on cash advances, interest, fees and charges while your account is delinquent. These types of exclusions are common on rewards credit cards.

Extra Perks and Cardholder Benefits
In addition to earning 1% cash back, you may benefit from other benefits and protections available with this credit card. These include:
Amex Offers: Add Amex Offers to your card and automatically get rewarded for eligible purchases. For example, you might get $10 off a $50 purchase at a specific retailer. Amex sometimes also has category-wide offers, such as $5 off a $10 purchase from any eligible small business.
American Express Presale: A benefit for all American Express cardholders, you may be able to use your card to get early access to tickets for shows or sporting events through the American Express Presale program.
Travel discounts: You can get discounts or complimentary add-ons when you book flights, hotels, car rentals and vacation packages through Amex's program using your credit card.
Purchase protection: Get reimbursed up to $1,000 ($50,000 total per year) if an eligible item you purchase is stolen or damaged within 90 days.
Return protection: If a merchant won't accept your return within 90 days of your purchase, you may be able to get reimbursed up to $300 per item—$1,000 total per year.
Extended warranties: If you purchase an item with an original manufacturer's or store brand warranty of 12 months or less, you'll automatically get warranty coverage for up to 12 additional months.
Car rental insurance:: Secondary insurance coverage that can help cover expenses if a rental car is damaged or stolen.
Travel accident insurance: Travel accident insurance, also called death or dismemberment insurance, may pay out when an eligible traveler loses a limb, speech, hearing or their life.
The Credit One Bank American Express® Credit Card also has zero fraud liability, and you won't be responsible for unauthorized charges. Terms apply to American Express benefits.

Fees and Fine Print Worth Paying Attention To
In addition to the $39 annual fee, the Credit One Bank American Express® Credit Card has a few fees and optional add-on services that you should be mindful of when applying for and using the card.
For example, there's an 8% cash advance fee ($5 minimum), if you want to use your credit card to withdraw cash. The fee is higher than what you may find on other credit cards and, in general, cash advances should be a last resort because you'll typically immediately accrue interest on the cash advance and pay the fee.
There's also a 3% foreign transaction fee (or $1, whichever is greater), although that's a fairly standard rate among cards that charge a foreign transaction fee. You may have to pay it if you use your card outside the U.S., or if you make a purchase online that's in a foreign currency.
Credit One Bank also offers an optional credit protection program on the credit card. The program will cover your card's minimum payments for up to six months if you become involuntarily unemployed or disabled. However, you'll be charged 96 cents per $100 in credit card balances every month to maintain the insurance.
Read over the terms and exclusions carefully, as you don't want to pay for a service you'll have a hard time using later. For instance, you won't qualify for involuntary unemployment coverage if you quit your job or worked less than 20 hours per week during the previous 30 days.
Additionally, Credit One Bank charges a $9.95 fee for paying your credit card bill with an express payment—which can free up part of your credit line sooner. You can mail a payment, make a payment with MoneyGram or Western Union, or make a standard payment from a linked bank account for free.

Additional Info
| | |
| --- | --- |
| Purchase APR: 23.99% Variable | Grace period: 24 days |
| Transfer APR: N/A | Annual fee: $39 |
| Cash advance APR: 23.99% Variable | Balance transfer fee: N/A |
| Minimum interest charge: $1 | Cash advance fee: 8% ($5 minimum) |
| | Foreign transaction fee: 3% ($1 minimum) |
| | Late payment fee: Up to $39 |
| | Returned payment fee: Up to $39 |
Authorized-User Policy
You can add someone who is 15 or older to your Credit One Bank American Express® Credit Card as an authorized user. The person will receive a card that they can use for transactions, but you'll be responsible for the entire bill as the primary cardholder. Being an authorized user may help someone build credit if the card issuer reports the account to the credit bureaus under the authorized user's name. Credit One says it will report the account when you add and then inform that company that the authorized user is your spouse.
Is This Card Right for You?
The Credit One Bank American Express® Credit Card could be a good pick if you're working to build your credit, want to earn rewards and want an unsecured card. However, other unsecured rewards cards can help you build credit, and they might offer a higher rewards rate with no annual fee. The catch is that you may need to build your credit before you can qualify for the better options.