At Experian, one of our priorities is consumer credit and finance education. This post may contain links and references to one or more of our partners, but we provide an objective view to help you make the best decisions. For more information, see our Editorial Policy.
If you're working to build or rebuild your credit, a secured credit card could help. When you get a secured credit card, the card issuer reports the account as well as your payment history to the credit bureaus. If you pay your monthly bill on time, it can help you build a positive credit history.
Secured cards work a little differently from unsecured cards. To open a secured card, you'll need to send the issuer a refundable security deposit, which serves as your credit limit. You'll get this money back if you close your account with a zero balance, or if the company decides to switch you over to an unsecured card.
Some secured cards charge an annual fee, and a few secured cards have fees that you don't typically see on unsecured cards, such as an application or monthly fee. However, you can find secured cards that don't charge any of those fees—and offer additional benefits as well. Here are a few of the best ones, all of which report to the three major credit bureaus (Experian, TransUnion and Equifax).
Discover it® Secured
Discover it® Secured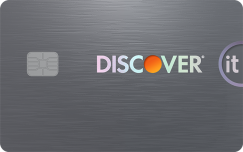 Apply
on Discover's website
Recommended FICO® Score*
Poor, New to Credit, Rebuilding
22.99% Variable
Intro APR: 10.99% on Balance Transfers for 6 months
2%
cash back on Gas Stations & Dining
1% cash back on All Other Purchases
Intro Bonus: Dollar-for-dollar match of all cash back earned the first year
Card Details
No Annual Fee, earn cash back, and build your credit with responsible use.
It's a real credit card. You can build a credit history with the three major credit bureaus. Generally, debit and prepaid cards can't help you build a credit history.
Establish your credit line with your tax return by providing a refundable security deposit of at least $200 after being approved. Bank information must be provided when submitting your deposit.
Automatic reviews starting at 8 months to see if we can transition you to an unsecured line of credit and return your deposit.
Earn 2% cash back at Gas Stations and Restaurants on up to $1,000 in combined purchases each quarter. Plus, earn unlimited 1% cash back on all other purchases – automatically.
Get 100% U.S. based customer service & get your free Credit Scorecard with your FICO? Credit Score
INTRO OFFER: We automatically match all the cash back you've earned at the end of your first year.
Get an alert if we find your Social Security number on any of thousands of Dark Web sites.* Activate for free.
The Discover it® Secured credit card delivers big benefits with few fees.
In addition to having no annual fee, there are no foreign transaction fees, no penalty APR, and Discover will waive the first late-payment fee per account. Try to make at least your minimum payment on time, however, to avoid potentially hurting your credit.
This is also a rewards credit card, which is rare in the secured card world. Using the card, you can earn 2% cash back on your first $1,000 in combined spending at gas stations and restaurants each quarter, and 1% cash back on all other purchases. For new cardholders, at the end of your first year with the card, Discover will match all the cash back you earned.
When you open the card, you must pay a minimum security deposit of $200; your deposit amount is also your credit limit. After using your card for eight months, Discover will review your account and may decide to refund your security deposit and transition your account to an unsecured card.

Secured Mastercard® from Capital One®
The Secured Mastercard® from Capital One® could be a good option for those who don't want to lock up a lot of money in a security deposit.
Capital One will request a deposit of $49, $99 or $200 based on your creditworthiness, and you'll receive a $200 credit limit. If you want to start with a higher limit, you can send a deposit of up to $1,000. You may qualify for a higher credit limit (without any additional security deposit) if you make your first five payments on time.
The card doesn't charge foreign transaction fees, and Capital One lets you pick your payment due date. You can also benefit from purchase benefits, including extended warranties on eligible purchases, and access to Capital One's virtual assistant, Eno.

Citi® Secured Mastercard®
The Citi® Secured Mastercard® doesn't offer many extra features—its main benefit is the lack of an annual fee, which makes it a better choice than many other secured cards. You'll also be able to choose the security deposit amount, which can range from $200 to $2,500, and pick your payment due date.
If you're opening a secured card to build credit but don't plan on regularly using the card or have struggled with overspending in the past, the lack of a rewards program may not be a concern. Otherwise, a card that offers rewards or more purchase protections could be a better fit.

Other Cards to Consider
While they have a small annual fee, these alternative cards could still be beneficial:

The OpenSky® Secured Visa® Credit Card
The OpenSky® Secured Visa® Credit Card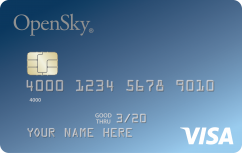 Apply
on Capital Bank N.A.'s website
Recommended FICO® Score*
Poor, New to Credit, Rebuilding
17.39% Variable
Intro APR: 0% APR on purchases for 3 months
Card Details
0% introductory APR on all purchases for the first three months
No credit check necessary to apply. OpenSky believes in giving an opportunity to everyone.
The refundable* deposit you provide becomes your credit line limit on your Visa card. Choose it yourself, from as low as $200.
Build credit quickly. OpenSky reports to all 3 major credit bureaus.
99% of our customers who started without a credit score earned a credit score record with the credit bureaus in as little as 6 months
We have a Facebook community of people just like you; there is a forum for shared experiences, and insights from others on our Facebook Fan page (search "OpenSky Card" in Facebook).
OpenSky provides credit tips and a dedicated credit education page on our website to support you along the way
*View our Cardholder Agreement located at the bottom of the application page for details of the card
The The OpenSky® Secured Visa® Credit Card doesn't offer many benefits and charges a $35 annual fee. But it doesn't require a credit check, which means you can still qualify even if you have a bad credit history. And because your account will be reported to all three credit bureaus, it can help you build credit.
Credit One Bank® Cash Back Rewards Credit Card
The Credit One Bank® Cash Back Rewards Credit Card isn't a secured card, but it may be an option for people with poor credit. While it has a $39 annual fee, you can earn 1% cash back on all eligible purchases at gas stations, grocery stores and on certain telecom payments. The card has a $300 minimum credit limit to start, but you may be eligible for credit line increases based on your overall credit performance.
Using Your New Secured Card to Build Credit
Once you get a new credit card, it can take about 30 to 60 days for the account to appear on your credit reports. But practice good habits from the very beginning to make sure the card will help your credit:
Make at least the minimum payment on time to avoid late payment fees and new late payments on your credit report.
Pay your bill in full each month when you can to avoid paying interest.
Only use a small portion of your card's available credit limit (under 30%) at a time to keep your utilization ratio down, which can help your credit scores.
You can monitor your credit for changes as you go. Assuming no new negative information gets added to your credit reports, you may see your credit slowly improve as you use your secured card. Experian offers free credit monitoring of your Experian credit report and FICO® Score* tracking based on your credit report to help you track your progress.